The Different Types of University Degrees Explained
The education system is designed to cultivate and empower people with knowledge and skills to prepare them for various challenges in life. And so, getting an education is one of the most important stages of a person's life. It provides students with the knowledge needed to succeed in any field of their choice. Moving up in the system, we arrive at university, which is often the next step after completing high school. Consequently, universities are an integral part of this system – institutions of higher learning offering students a wide range of programs that grant degrees and certificates to students who complete required coursework. In the course of these degree programs, universities also offer students the opportunity to engage in research and gain hands-on experience in their field of study.
You cannot overstate the importance of a university education. It has the potential to open doors to more job opportunities in the future. And since there are a variety of different types of degrees that universities offer which cater to everyone's unique interests and goals, we understand how confusing it can seem at first; that's why we've broken down the different types of university degrees available into easy-to-digest chunks so that you can decide which path is best suited to you. In this comprehensive guide, we'll explain everything you need to know about the various types of university degrees/programs. Read on to find out more!
Certificate Programs
Certificate Programs are non-degree programs that provide students with specialized training in a particular field. Students who complete certificate programs learn very specific skills that they can apply to their work. These programs are shorter than traditional degree programs and equip students with practical skills that can make them competitive and highly skilled in certain areas. Certificate programs could be in different forms such as undergraduate certificates, post-baccalaureate certificates, and graduate-level certificates. The duration of a certificate program may vary. They could either be shorter programs of several weeks or extended programs that take up to a year to complete. This flexibility provides students with the opportunity to learn on a timeline that works best for them.
Certificate programs typically have different prerequisites, depending on the field of study. Some may require that students have a high school diploma or GED, while others may require a Bachelor's degree from an accredited institution. Regardless, certificate programs cater to all types of students. These include recent high school graduates, working professionals, or even people looking for a career change.
Associate Degree
Associate degrees are undergraduate degrees that typically serve as a stepping stone between high school and a bachelor's degree. These degree programs last typically two years and equip students with basic knowledge to function at a professional level in their chosen field. They are becoming increasingly popular because they offer a cost-effective and time-efficient solution to entering the workforce.
There are various types of associate programs with course materials that range from technical to vocational fields. Some examples include Associate of Arts (AA) degrees, Associate of Science (AS) degrees, and Associate of Applied Science (AAS) degrees. Generally, each type focuses on the student's area of interest, providing them with an opportunity to hone their skills in a field that they have a passion for.
The prerequisites for associate programs are generally a high school diploma or equivalent. Some programs may have additional requirements that vary among institutions, depending on the technicality of the course material.
Associate degree programs focus on foundational courses, including generalized knowledge and skills related to their area of study. It's an excellent option for students who are looking to enter the workforce quickly or those wanting to transfer to a four-year university. An Associate degree can be postgraduate – pursued by graduates from a Bachelor's degree program as it offers a cheaper way to upskill within a short program duration. Or it can be undergraduate – often pursued by students who have recently graduated from high school and want to explore different fields before committing to a particular major. It is not as advanced as a Bachelor's degree, still, it equips students with the necessary skills to work in entry-level positions in industries like healthcare, business, hospitality, and technology.
Bachelor's Degree
This is an undergraduate degree that usually takes four years to complete. It offers students a comprehensive understanding of their chosen fields, expanding their knowledge and opportunities. It allows students to specialize in a particular field of study, either through electives or by choosing a specific major. Students who earn this degree learn a broad range of skills in their respective fields, including critical thinking, analytical, technological, communication, and problem-solving skills. Bachelor's degrees are prerequisites for many higher-level positions in various fields like Science, Business, Engineering, Graphic Design, and many more.
Bachelor's programs are undergraduate degree programs that offer students a fundamental understanding of a particular field. The requirements for a Bachelor's degree include a high school diploma or equivalent. And some programs may require students to take additional qualifications, such as standardized tests or interviews.
There are various types of Bachelor's degrees. They include Bachelor of Arts (BA), Bachelor of Science (BS), and Bachelor of Fine Arts (BFA). Each of these degrees provides a unique focus and direction for students to achieve their academic goals. Many students choose this pathway to broaden their career prospects, as well as gain knowledge in their area of interest. Skills gained in a Bachelor's program include critical thinking, analytical ability, communication, and problem-solving, among others. Students develop expertise in their selected fields and gain proficiency in theoretical and practical knowledge in their chosen subjects. Bachelor's degree programs are popular and recognized worldwide. And in addition to the many career prospects available to graduates of these degree programs, further education in pursuit of Master's or Doctorate degrees is also attainable.
Master's Degree
Master's degree programs provide students the opportunity to advance their knowledge and professional qualifications in the fields of their choice. These programs aim to equip students with the necessary skills, expertise, and training for a wide range of career paths. Master's programs generally come in two forms: research-based or coursework-based. Research-based master's degrees include Master of Arts (MA) or Master of Science (MS) programs. They involve advanced study of a unique topic and are more theoretical than other types of Master's degrees. Coursework-based programs include Business Administration (MBA), and MSc degrees, which are focused on a specific field and require mastery of many elements within that field.
Prerequisites for obtaining a Master's degree depend on the program chosen. However, they generally entail an undergraduate degree in the same or similar subject area with an adequate GPA as well as good test scores when necessary. Depending on the school, some additional requirements may be needed such as writing samples or letters of recommendation. The duration for completing a Master's degree varies by program/type but usually requires one to two years for full-time students. On the other hand, part-time students can take up to three. Universities also offer accelerated programs that enable part-time students to complete their degrees in shorter periods.
Master's degree programs usually require students to work on a thesis, research paper, or practical project. This degree focuses on equipping students with advanced knowledge and specialized skills in their field to become experts. Students pursuing a Master's degree come from diverse backgrounds including recent college graduates seeking an advanced degree to pursue specialized careers, or experienced professionals looking to advance their career credentials and expertise in certain areas.
Doctoral Degree
Ph.D. or Doctoral degree programs are the highest level of education available and the epitome of research. They involve a comprehensive study of a particular subject, which leads to an original contribution to the field. It requires students to conduct in-depth and extensive research in a specialized field. A Ph.D. program is designed for students who want to make a significant contribution to their field of study. It is often pursued by students who want to become professors or researchers in academia or industry. These programs require a more rigorous level of study, research, and writing than any other undergraduate or graduate program.
Doctoral degree students have either recently completed their Master's program or are professionals looking for an upgrade in their respective fields. The types of doctoral degrees range from traditional academic degrees such as Doctor of Philosophy (Ph.D.), and Doctor of Arts (DA) to specialized professional degrees like the Doctor of Business Administration (DBA) or Doctor of Medicine (MD). Programs typically take anywhere between three to eight years to complete depending on the type and structure selected. Prerequisites for admission into a doctoral degree program generally include a Master's degree with satisfactory grades, letters of recommendation from professors or mentors, successful performance on standardized test scores like the GRE or GMAT, submission of personal statements or personal essay outlining your research interests, resumes, and test scores. Admission may be even more stringent depending on the specific university's requirements.
The skills that students learn while in these programs vary but often include advanced research methodologies, problem-solving techniques, real-world application, analysis development, and written communication strategies. Additionally, working on independent projects allows students to develop essential leadership abilities that can benefit all areas of life. Career opportunities available after obtaining a Ph.D. depend mostly on the field of specialization chosen; some examples include teaching positions at universities and researchers within public and private organizations in areas such as healthcare services and technology companies among many others.
Diploma Programs
Diploma programs offer students an opportunity to achieve advanced expertise in a specific field. These programs are typically shorter than either Bachelor's or Master's degrees but offer a balance of theoretical and practical skills. Students interested in advancing their careers in management, accounting, or network engineering, to mention a few, typically pursue these programs. Diploma programs provide students with a comprehensive overview of a subject within a short amount of time.
The types of diploma programs range from traditional degrees such as the Diploma in Arts (DA) to specialized courses like the Diploma in Business Administration (DBA). Generally, prospective students will need to submit additional materials, including letters of recommendation, curriculum vitae, and personal statements, when applying for a diploma program.
There are two main categories of diploma programs available: undergraduate and postgraduate. While both programs have similar prerequisites – such as prior degrees or qualifications that show competency in particular areas – graduates from either level can expect to receive theoretical and practical knowledge based on their program specialization. At the undergraduate level, diploma programs typically take six to twelve months to complete and focus on providing students with an array of skills required to succeed in the workforce after graduation. On the other hand, postgraduate diplomas are specialized programs that usually require a Bachelor's degree and can last up to two years depending on the program chosen, allowing students to delve deeper into certain fields which could potentially lead them to further education or better employment prospects. Postgraduate diplomas often provide students with more advanced techniques and research strategies than those learned at the undergraduate level.
Professional Degrees
Professional Degrees provide individuals with a higher level of education and training in specific fields. They are ideal for students who want to pursue careers in professional fields that require specific qualifications. These degrees include the Juris Doctor, Doctor of Medicine, Doctor of Dental Medicine, and Doctor of Optometry.
Professional degree students come from diverse backgrounds. They could be recent high school graduates, undergraduate degree holders, or experienced professionals. Regardless, they all can benefit from theoretical knowledge combined with practical skills needed throughout their professional encounters. Professional degrees typically last between two and five years and offer extensive knowledge and specialized training in the field. They require applicants to possess certain subtypes as prerequisites for admission into the program. These may include prior degrees, qualifications like A Levels, GCSEs, or SATs, with letters of recommendation or a curriculum vitae. Some of them may also be specific undergraduate courses, experiences, or exams. While the prerequisite requirements can be high, these programs are highly rewarding. Career opportunities include practicing law, medicine, dentistry, business, and other specialized fields.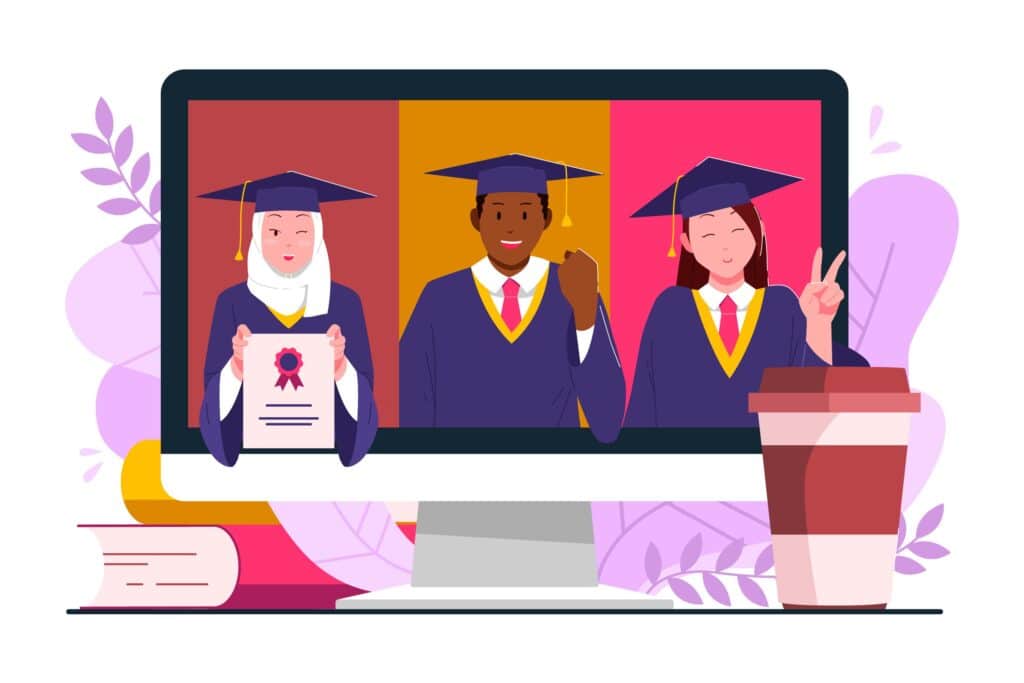 Study Modes
The lesser-known degree programs – Associate Degrees, Certificate Programs, and Diploma Programs – provide specialized training to equip students with the necessary practical and theoretical skills to work in different fields. They are also good options for those who cannot pursue Bachelor's or Master's degrees for different reasons.
Ultimately, there's no denying that earning a university degree requires a significant investment in time, energy, and finances. But, each type of degree offers its unique set of benefits. And it's up to each student needs to determine which path is the best fit for their career goals.
Additionally, university programs are available in different forms. This allows them to cater to different kinds of learners with differences in content delivery and access. They are mainly Traditional programs or Online programs.
Traditional programs are mostly offered in person, on the premises of the institution, with face-to-face interactions between students and faculty members. They can be Full-time or Part-time.
Full-time programs offer a traditional classroom experience with more structure and interaction with professors and peers. They tend to be more immersive and take a reasonable amount of time to complete.
Part-time programs enable students to pursue their education while still maintaining a work-life balance. These are programs designed for students who want to work while studying. And as a result, they may take longer to complete than full-time programs.
Alternatively, students can opt for online programs which offer students the opportunity to learn at their own pace and schedule. They allow students to access lectures/materials via the Internet and asynchronously at any place and time. Online programs offer flexibility and the opportunity to learn while students maintain their current professional and personal commitments.
Conclusion
To conclude, the different types of university degrees provide a broad range of skills, knowledge, and expertise that equip students for success in various fields. Choosing the right program of study is crucial for any student's long-term career success. Full-time, part-time, and online programs offer flexibility and access to educational material, providing options for students to tailor their studies to their work and personal commitments.
Regardless of the type of degree or program a student chooses, it's essential to ensure that the institution is accredited by a reputable organization. Accreditation validates the quality of education received, ensuring that the program meets certain standards and prepares students for the rigors of their field of choice. This plays a crucial role in proving the expertise and skills of graduates when applying for jobs.